BASSE-POINTE, Martinique – France (Saturday, April 1, 2017) — Competition launched today at the Martinique Surf Pro, in bumpy two-to-four foot surf at Basse-Pointe. Event officials capitalized on good conditions to complete the opening round of competition and the first eight heats of the second round.
Peruvian on the rise, Lucca Mesinas, 20, got off to a great start in his second appearance in Martinique, as the young regular footer lead his Round 2 bout for most of the 30-minute exchange. Mesinas eventually was just overtaken by Yuri Goncalves (BRA) for a mere .03, but the Peruvian looked sharp and seemed excited to surf again in Basse-Pointe.
"The waves were really fun and with 30 minutes in the water you can afford to be patient and wait for the good ones," Lucca said. "I loved the event last year and had a good result so it was an easy decision to come back for sure. In my country there's only point breaks so I feel great here on this perfect right."
Long-time WSL competitor and former Championship Tour athlete Jihad Khodr (BRA), 33, came back with a bang, launching his Martinique campaign with a solid display of power surfing to earn one of the day's highest combined heat totals, an impressive 15.33 out of 20.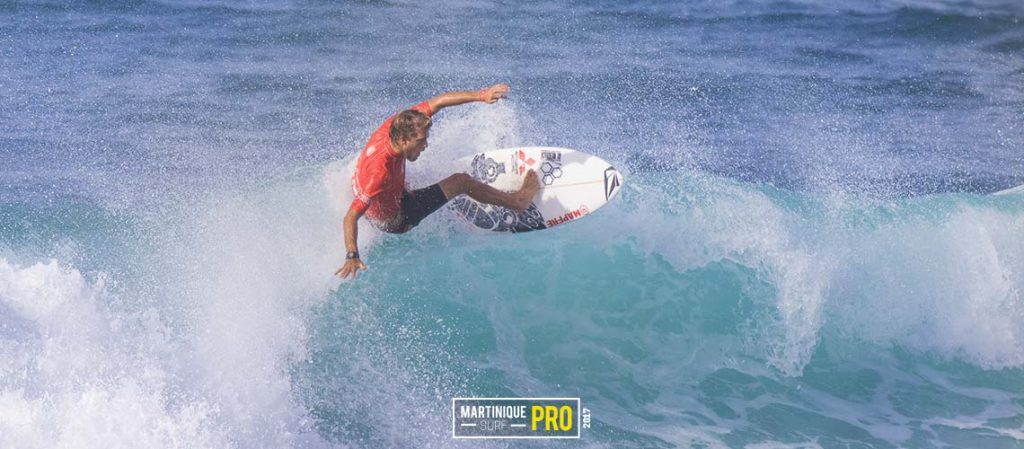 "I've been spending time working on myself, trying to understand how to be true to myself and happy," Khodr said about his recent time off tour. "I'm so happy to be here, I love islands and this one is magnificent. It's a god-given pleasure we have to appreciate and enjoy. That wave is fun, pretty strong and I've been lucky to find two fun ones."
A solid French crew lead the blue-white-and-red assault with Charly Quivront (FRA), 21, at the forefront. The Pontaillac local scored two solid 7+ waves to eliminate the opening round's best performer, in Shaun Burns (USA).
"This is essentially my first comp of the season, so I didn't really know what to expect and felt a little pressure, but I went out and had fun, and it worked out," Quivront stated. "I trained a lot in Hawaii this winter then at home, so I feel great but not getting ahead of myself, this is just a good start. This event is quite important for the European rankings and it's a great break in winter at home so I'm stoked to be here."
The Carribean contingent suffered dramatic losses on the opening day of competition but still counts a few surfers in the draw to represent the islands when the event resumes.
Miguel Tudela (PER), 22, and Slade Prestwich (ZAF), 22, surfed the heat of the day in the late afternoon, posting back-and-forth excellent scores to exchange the lead multiple times and claim the only two above-16 heat totals on Day 1.
Event organizers have decided to have a call at 7:30AM on Sunday for a potential second day of competition in what is expected to be bigger, more exciting surf.
The Martinique Surf Pro is scheduled from April 1-8, 2017 at Basse Pointe, Martinique – France. For all results, photos, video highlights and press releases, log on to worldsurfleague.com.
The Martinique Surf Pro is supported by Collectivité territoriale de Martinique, CAP Nord Martinique, Comité Martiniquais du tourisme, CCI Martinique, ville de Basse-Pointe, ADEME, CROS Martinique, Fédération Française de Surf, Coca Cola Life, Jeep, Jumbo Car, Mr. Bricolage, Air France, Brasserie Lorraine, Socacom, Orange, HSE, Reezom, Le Petibonum, AbilityBoats, Mumm, Ti Kafe, Odissey Sport Santé, Assistance 97, Canal +, Surf+, Trace, Martinique Buzz, Surf Session, France Antilles, People-Bokay, Zay Radio, Xtreme Sports and Surfing Latino among others.
REMAINING MARTINIQUE SURF PRO ROUND 2 MATCHUPS:
Heat 9: Tomas Fernandes (PRT), Louis Gillick (AUS), Jacome Correia (PRT), Adrian Garcia (PER)
Heat 10: Shane Campbell (AUS), Luke Dillon (GBR), Fraser Dovell (AUS), Micha Cantor (USA)
Heat 11: Jackson Baker (AUS), Gatien Delahaye (GLP), Cole Houshmand (USA), Heremoana Luciani (PYF)
Heat 12: Joshua Burke (BRB), Tristan Guilbaud (FRA), Pedro Neves (BRA), Evan Moll (BRB)
Heat 13: Joaquin Del Castillo (PER), Brian Toth (PRI), David Dorne (GLP), Leon Glatzer (DEU)
Heat 14: Rafael Teixeira (BRA), Bruce MacKie (BRB), Yuji Mori (JPN), Imaikalani Devault (HAW)
Heat 15: Taylor Clark (USA), Adrien Toyon (FRA), Gabriel Farias (BRA), Jihad Khodr (BRA)
Heat 16: Alonso Correa (PER), Mateus Herdy (BRA), Harrison Martin (AUS), Yage Araujo (BRA)
MARTINIQUE SURF PRO ROUND 2 RESULTS:
Heat 1: Yuri Goncalves (BRA) 15.43, Lucca Mesinas (PER) 15.40, Ethan Egiguren (EUK) 11.00, Jacob Burke (BRB) 10.00
Heat 2: Colt Ward (USA) 13.74, Chauncey Robinson (USA) 11.90, Tomas Tudela (PER) 6.36, Luke Hynd (AUS) 4.50
Heat 3: Charly Quivront (FRA) 14.73, Paul Cesar Distinguin (FRA) 12.80, Shaun Burns (USA) 12.53, Seth Moniz (HAW) 9.50
Heat 4: Thomas Doumenjou (FRA) 14.00, Medi Veminardi (REU) 12.23, Titouan Boyer (MAF) 9.67, Lliam Mortensen (AUS) 9.13
Heat 5: Ty Watson (AUS) 12.90, Tomas King (CRI) 11.63, Jared Hickel (AUS) 11.20, Victor Mendes (BRA) 10.87
Heat 6: Takumi Nakamura (JPN) 13.96, Elliot Paerata-Reid (NZL) 12.84, Dane MacKie (BRB) 10.47
Heat 7: Miguel Tudela (PER) 16.47, Slade Prestwich (ZAF) 16.46, Peterson Crisanto (BRA) 12.77, Tom Cloarec (FRA) 11.94
Heat 8: Kaito Ohashi (JPN) 13.77, Andy Criere (FRA) 13.07, Che Allan (BRB) 11.54, Ugo Robin (FRA) 9.87
MARTINIQUE SURF PRO ROUND 1 RESULTS:
Heat 1: Jacob Burke (BRB) 11.34, Chauncey Robinson (USA) 8.83, Thomas Chevron (MTQ) 5.60
Heat 2: Shaun Burns (USA) 15.00, Thomas Doumenjou (FRA) 9.93, Tad McCardell (USA) 6.87, Mael Laborde (MTQ) 6.57
Heat 3: Ty Watson (AUS) 12.34, Dane MacKie (BRB) 10.33, Stanislas Sarrotte (MTQ) 7.17, Tomas Lopez Moreno (ARG) 7.10
Heat 4: Peterson Crisanto (BRA) 13.66, Ugo Robin (FRA) 9.34, Sean Foerster (CAN) 9.17, Luke Gordon (USA) 8.90
Heat 5: Adrian Garcia (PER) 12.50, Micha Cantor (USA) 9.54, Cam Richards (USA) 8.87, Alexandre Viguier (MTQ) 6.27
Heat 6: Heremoana Luciani (PYF) 11.27, Evan Moll (BRB) 8.03, Nicolas Chalonec (MTQ) 5.20
Heat 7: Leon Glatzer (DEU) 11.50, Imaikalani Devault (HAW) 10.16, Tom Sibon (FRA) 9.63, Arne Bergwinkl (DEU) 8.87
Heat 8: Jihad Khodr (BRA) 15.33, Yage Araujo (BRA) 12.33, Renan Grainville (FRA) 8.27, Julien Cambon (GLP) 8.00
Nicolas Leroy (WSL)