MARTINIQUE SURFING
Sports Association of the 1901 law (french), Martinique Surfing (MS) aims to develop and generalize the practice of surfing. MS offers courses for all levels, at both South and North of the island. Affiliated with the French Surf Federation, Martinique Surfing is a federal club with more than 100 members. MS organizes federal competitions and offers coaching of top level surfers.
The association also organizes free competitions, open days and puts in place social actions.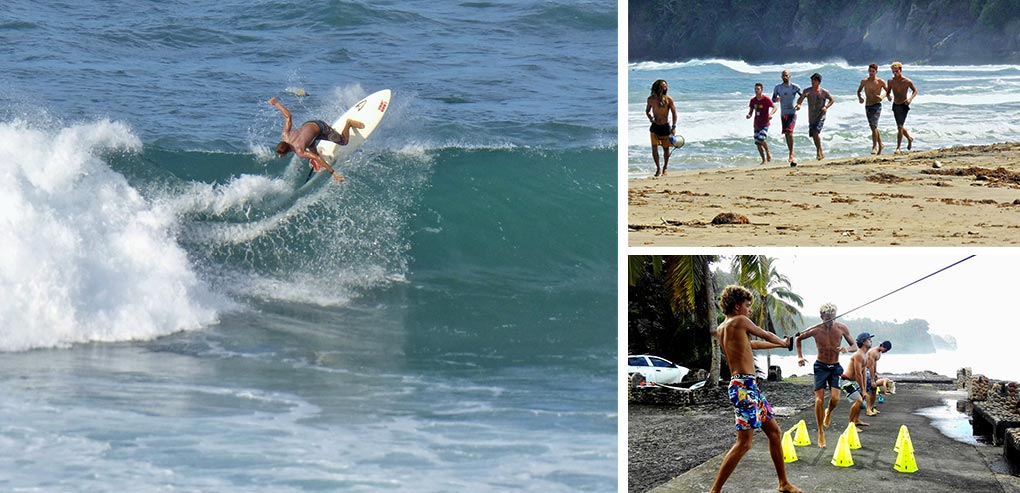 A SOCIETAL DIMENSION
Top-level sports competition, the Martinique Surf Pro is also a year-round commitment to the people of Martinique and young people. Through the Martinique Surfing and Caribbean Surf Project associations, the founders of the MSP are promoting the sport to as many people as possible, including those who are furthest away from this practice (social and / or economic reasons), with two Initiatives: School Surfing and Surfing Insertion. More than 500 young people benefit each year from these measures. Because surfing is more than just a sliding sport: it has a real societal dimension.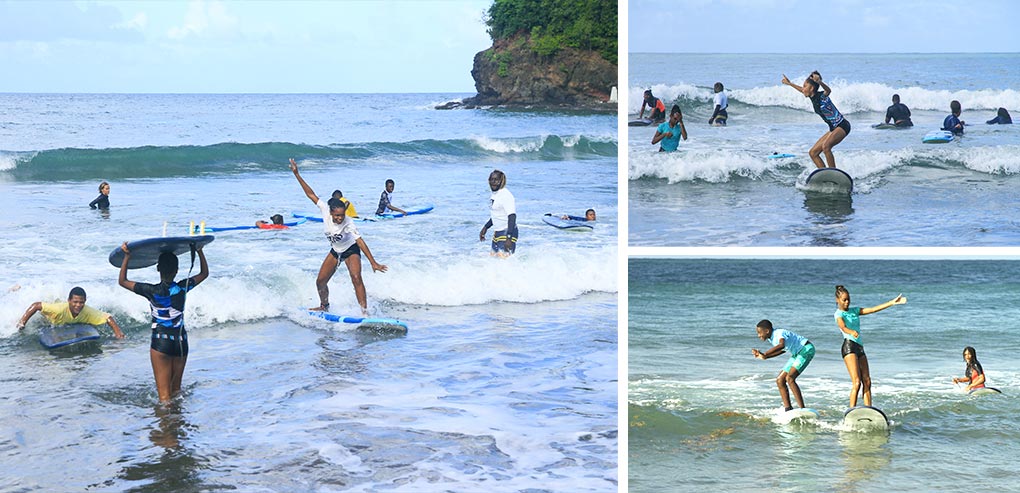 SURF INSERTION
Created in 2010, this program is inspired by the Brazilian concept Surf Favelas that fights against crime and social exclusion. The Martinique Surfing association has adapted it successfully to the martinican context. Surf Insertion is for people in great difficulty and has several objectives. It allows practitioners to regain confidence and self-esteem, to get out of their usual environment, to develop autonomy and sense of responsibility, to learn to live in groups and to respect instructions. Thanks to surfing, they find the taste of the effort, learn the values of respect, solidarity and humility. Surf Insertion also includes an environmental awareness component. Martinique Surfing supports young people in precarious situations. At the end of these teaching and discovery cycles, some of them decide to follow courses in the sea, sports or social professions.
SCHOOL SURFING
For the past two years, Caribbean Surf Project has been offering schools an introductory surfing course as part of the Physical Education and Sports courses. First and foremost, it will enable North Atlantic institutions located near the practice sites (Basse Pointe, Lorrain, Marigot, Sainte Marie, Trinité) to enhance their coastline while enriching their educational offer. The middle school students develop their self-confidence and their capacity for autonomy in this shifting and uncertain aquatic environment. The practice of surfing helps them to integrate the values of respect and surpassing oneself. The School Surf activity is very popular with middle school students, their parents and teachers.